Inovace Technologies is one of the leading IoT companies in Bangladesh who are well known for their expertise in Biometrics, software development and industrial solution development. But the product/solution that has given Inovace the breakthrough in the IoT industry in Bangladesh is their very own biometric attendance device, Tipsoi. Tipsoi bought nationwide recognition for Inovace and the success of Tipsoi will always be the greatest encouragement for every future endeavors of Inovace.
Biometrics has varieties of applications like human identification, security, attendance, access control, banking etc. But the number of companies in Bangladesh that provide their in house biometric solution is very few. In most of the cases, biometrics solutions are imported and deployed in workplaces. Inovace is one of the very few companies who have their inhouse developed biometric solution Tipsoi, which is primarily used for attendance and access control.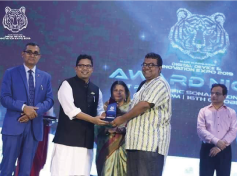 Before Inovace, all existing biometric attendance devices in Bangadeshi market was imported and there was no customizability. Besides, those devices needed heavy infrastructural support, lots of wirings and no central monitoring capability. Inovace was able to comprehend these problems and came up with a user friendly solution that can overcome all the shortcomings of the existing solution.. Not only that, Inovace designed a complete HRM solution that complements the attendance device perfectly. Combination of this two solution makes the device different from any other existing solution in the market.
During this long journey of Tipsoi, operation of Tipsoi has spread over more than 4000 schools all over Bangladesh including the remotest hill tracks and boat schools where there is hardly any electricity or other technical support. Tipsoi was also deployed in many government, non-government and corporate organizations. In the meantime Inovace was partnered with the biggest telecommunication company of Bangladesh, Grameenphone. Inovace was rewarded with many national level awards for this versatile solution including best hardware award at Digital Device and Innovation Expo 2019.
Inovace wants to bring whole Bangladesh under a single digital platform through Tipsoi. Inovace is working relentlessly to make sure that every individual of Bangladesh has access to biometrics. Not just that, Inovace dreams to represent Bangladesh as one of the leading biometric exporters in the world of highest quality.